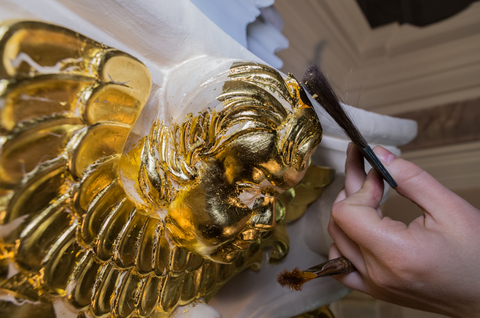 Heritage Skills- NVQ Diploma Level 3 Heritage Skills- Decorative Occupations QUC870
£1,440.00
For experienced, professional
Painters and Decorators
or
Scenic Artists
who are regularly employed on
Conservation/Restoration
or
Heritage Projects
involving supervision responsibilities and undertaking high quality
'advanced craft work' .
The are 8 units on which you will be assessed. These are:
'Conforming to General Health and safety in the Workplace''Preparing and Painting Surfaces on Conservation Restoration Projects in the Workplace''Working on Conservation Projects in the Workplace'

As well as the supervisonary units:

'Conforming Work Activities and Resources for the Occupational Work Area in the Workplace'
'Developing and Maintaining Good Occupational Relationships in the Workplace'
'Confirming the Occupational Method of Work in the Workplace'


And 2 optional units from a choice of conservation decorative craft units:
marbling, graining, complex stencils, free brush work (mall stick) , gilding, hanging specialised wall coverings, and papering complex surfaces.

On completion of the
NVQ Diploma Level 3
course you will be eligible to
apply
CSCS for the
gold CSCS skills card
. The full cost of the course is
£1,440.00
VAT exempt
Click here to book your induction at the induction deposit section of our store
If you have completed induction please include the discount code
DEPOSIT PAID
at checkout.